WHY ADVERTISE WITH US
The comprehensive way for brands to reach and engage the global motorsport audience.
Motorsport Network is the integrated digital media market leader at the heart of the motorsport and automotive industries.
Leveraging our technology, customer intelligence and brands, we add value for our community of millions of fans and enthusiasts of motorsport and automotive around the globe, through our full spectrum of news, insights, events, tickets, experiences, video content, games and esports.
OUR NUMBERS
61+ million
monthly digital users
21 million
social media followers
STRONG BRANDS & ORGANISATIONS USING MOTORSPORT NETWORKS MEDIA POWER AND EXPERTISE
Key partnerships here at Motorsport Network
automotive partners

sponsors of motorsport

rights holders / teams / circuits

AGENCIES

WHAT WE HAVE TO OFFER
At Motorsport Network, we have a digital first, multi-touch approach to interact with our audience through their motorsport and automotive journeys.
Our digital presence enables us to reach a wide and diverse set of users, feeding up to date information in a unique and informative way; building a strong and loyal community.
BESPOKE CONTENT
We not only provide both digital and print solutions, we also facilitate a full 360 bespoke service that can bring your vision & ideas into reality.
Whether that involves creating custom content, scoping and producing high quality videos through to creating large scale events, we have the internals expertise to make this happen.
DISPLAY AD FORMATS
If it's just the distribution you need help with however, you can have access to our full range of marketing channels:
Video preroll 640x480(px)
VIDEO OVERVIEW
Here at Motorsport Network we provide:
5000+
Hours of on
demand video in
our library
1000
Live events
streamed annually

125
Different race
series covered
globally
Where can the videos be viewed?
Our very own pureplay video platform
Our flagship properties bring the latest news and editorial content to over 61m users monthly.

Types of video inventory:
PRE ROLL
MID ROLL
POST ROLL
THE NETWORK IMPACT
ACROSS SOCIAL MEDIA
Spread over 114 profiles globally, we have combined reach of over 11m users across both Racing & Automotive sectors.
30 days worth of data on Motorsport Network
PODCASTS
Motorsport Network covers 13 podcast channels, reaching over 550,000 loyal/monthly listeners. Topics ranging from all parts of the Motorsport & Automotive area.

The Motorsport.com Podcast Bringing you the best motorsport insight and analysis from our global team of expert journalists.

Autosport F1 - Formula 1 and Motorsport
For fans of Formula 1, Formula E, Sportscars, Touring Cars and Rally. The Autosport Podcast with Alex Kalinauckas is the official podcast of Autosport, the world's leading authority on motorsport.

Motor1.com U.S
Listen to hear John Neff and the Motor1.com U.S. team talk about everything automotive: cars,sportscars, supercars, sedans, SUVs, motorcycles, auto shows and more.
EMAIL
In addition to your existing marketing strategy, email marketing can provide you instant access to new prospects with 100% deliverability.
Motorsport Network can provide access to compliant B2C & B2B email contacts globally.
All our data is first part which has been acquired over the years using motorsport network brands. Currently we have over 1,000,000 opt in email addresses.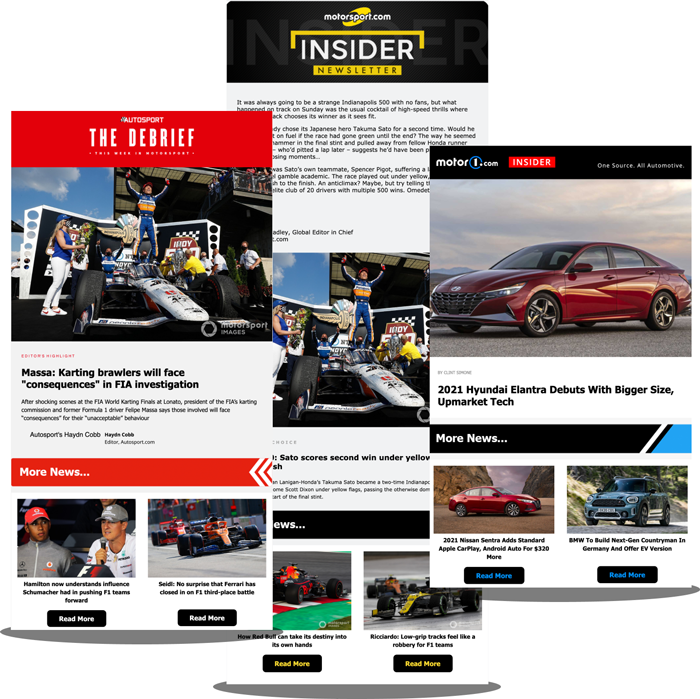 GET IN TOUCH
Have a question about what you have seen or want to know more about how Motorsport Network help you drop us an email and we will get in touch: